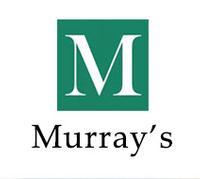 <h3>Important Information regarding your registration</h3>Registrations without supporting ID will be automatically rejected. Please see Conditions of Sale.
<h3>Payment</h3>Murray's...more accepts cash payments up to £3,000, debit cards, bank transfer and sterling cheques drawn on an Isle of Man or UK registered bank account. <h3>The Salerooms</h3>Murray's sells mostly antiques, fine arts and specialist items in the Isle of Man. Murray's incorporates Chrystals Auctions, the Isle of Man's longest established auction house. The salerooms themselves comprise approximately 320 square metres of sales area on two levels with additional storage. <h3>Postage and Packing</h3>We do not provide a shipping service but will pack and send appropriate items at reasonable cost and without liability. Items that cannot be despatched using regualar carriers must be collected by the purchaser by their own arrangement.<h3>Standard Bidding Increments</h3> £0 - £99 - £5 step £100 - £199 - £10 step £200 - £499 - £20 step £500 - £999 - £50 step £1000 onwards - £100 step These may alter at the auctioneer's discretion
Murray's
The Saleroom, Allan Street
Douglas
ISLE OF MAN
IM1 3DQ
Tel: 01624 673986
Website
Email
Buyer's Premium
15% plus VAT


Terms & Conditions
Postage & Packing
Get Directions
Important Information regarding your registration
Registrations without supporting ID will be automatically rejected. Please see Conditions of Sale.

Payment
Murray's accepts cash payments up to £3,000, debit cards, bank transfer and sterling cheques drawn on an Isle of Man or UK registered bank account.

The Salerooms
Murray's sells mostly antiques, fine arts and specialist items in the Isle of Man. Murray's incorporates Chrystals Auctions, the Isle of Man's longest established auction house.

The salerooms themselves comprise approximately 320 square metres of sales area on two levels with additional storage.

Postage and Packing
We do not provide a shipping service but will pack and send appropriate items at reasonable cost and without liability. Items that cannot be despatched using regualar carriers must be collected by the purchaser by their own arrangement.
Standard Bidding Increments

£0 - £99 - £5 step
£100 - £199 - £10 step
£200 - £499 - £20 step
£500 - £999 - £50 step
£1000 onwards - £100 step

These may alter at the auctioneer's discretion