Forum Auctions
Private Press, Illustrated Books and Modern First Editions - Wednesday 30th January 2019
Lot 46
This sale was held on Wednesday 30th January 2019 at 10:30am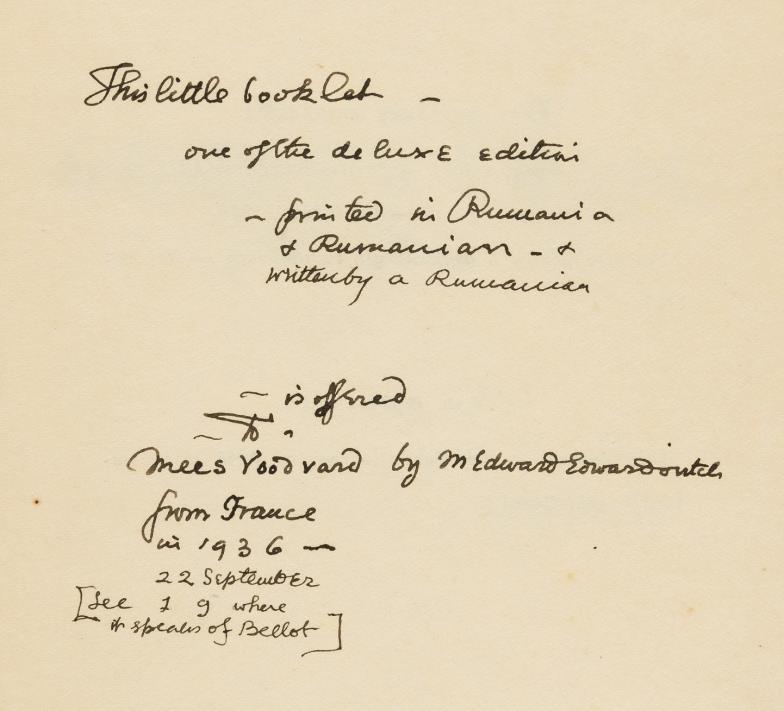 Craig (Edward Gordon) Nothing or the Bookplate, with a Handlist by E.Carrick [Edward ""Teddy"" Craig],
number 84 of 280 copies, including an original woodcut on Japon for Jan C. de Vos signed by the artist, 1924; Woodcuts and some Words, one of 150 copies signed by the author/artist, prospectuses loosely inserted, 1924 Acterian (Haig) Gordon Craig si Ideia in Teatru, deluxe edition, text in Romanian, presentation copy from Craig with long inscription to his lover Daphne Woodward ""This little booklet...is offered to Mees Voodvard by M Edward Edwardovitch from France in 1936..."" on front free endpaper, slight damage to one plate where previously adhered, original printed wrappers, browned, Bucharest, 1936, the first two both with tipped-in plates, original buckram, gilt, t.e.g., others uncut, first spine faded; and 12 others by or concerning Craig including one annotated by him, v.s. (15)

? Daphne Woodward became Craig's secretary and companion in 1929, and mother of his daughter, Daphne, who was always known as ""Two Two"" as she was born on 22nd May 1935. Daphne later translated French literature into English, particularly Georges Simenon's Maigret books.
CATEGORY: The Property Of The Late Bruce Beatty
You can bid live on this sale at
bidonthis.co.uk
Estimate: £400 - £600
Previous Lot
Next Lot