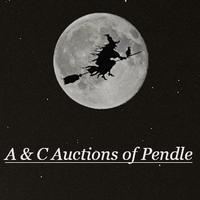 A & C Auctions of Pendle
Holker Business Centre
Colne
Lancashire
BB8 8EG
Tel: 01282 863319
Website
Email
Terms & Conditions
Postage & Packing
How to Find Us

Sale Details
16th September 2020 at 10:00am
2 Day Sale

Day 1 - Antiques, Jewellery, Silver, Collectables & Paintings

Day 2 - Art Reference Books, Frames, Oil Paintings & Watercolours from the Estate of the late Paul Richardson, Art Collector & Dealer.

Day 1 - Lots 1 - 506

Day 2 - Lots 507 - 895

Day 2 - Is the first part of the art collection of the late (great) Paul Richardson esquire of Leek, Staffordshire, mostly to be sold without reserve.

Paul Richardson - 1958-2020

Paul started collecting art around 25 years ago, following a work related accident. He bought his first painting at a local auction house and after researching the artist, he discovered that it was worth quite a bit more than he'd paid for it. This fuelled his curiosity regarding fine art and after a short period, he began to purchase more paintings and art books in order to increase his knowledge. This eventually led to him setting up Paul Richardson Fine Art Ltd. Over the years, Paul has travelled the country, visiting various auction houses and has met a large number of like-minded acquaintances, who have over the years, become dear friends.

Paul's extensive collection of paintings and art books are a testament to his dedicated and hard working nature and we hope that the items in today's sale can be enjoyed by their new owners, as much as they were by Paul."


Please note, in-house packing and worldwide shipping offered on most lots.
A & C Auctions of Pendle